Running short on time we had decided to drive straight from the north, not toward a planned campsite, but just to go as far in that direction as we could until we were too tired to continue, and either camp by the road or take in the first campsite that might have us when we reached that point.
We travelled along a dark, mostly empty stretch of the ring road, and early in the morning began to notice some odd colors in the sky. It was quite faint at first. We pulled over and I set the camera up to take a long exposure.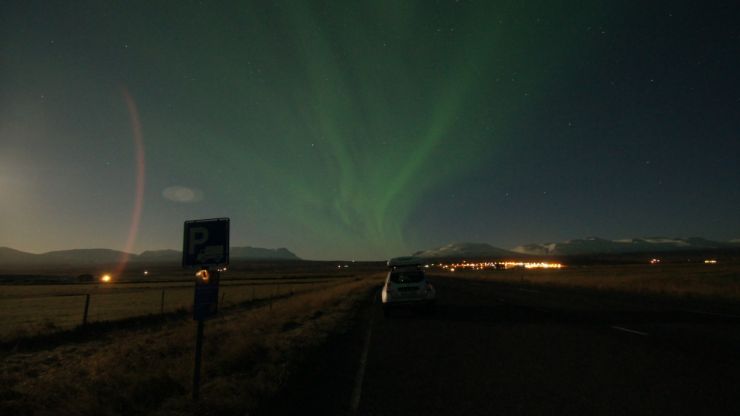 After a week in iceland I had stopped looking at the evening forecast, which tells you when you might be likely to see the northern lights. It requires both solar activity and clear sky in the early evening or late at night, which the first few days had been absent. Tonight the conditions were perfect, with a clear dark sky, and as we would find out plenty of solar activity.
The further we went the brighter the display became.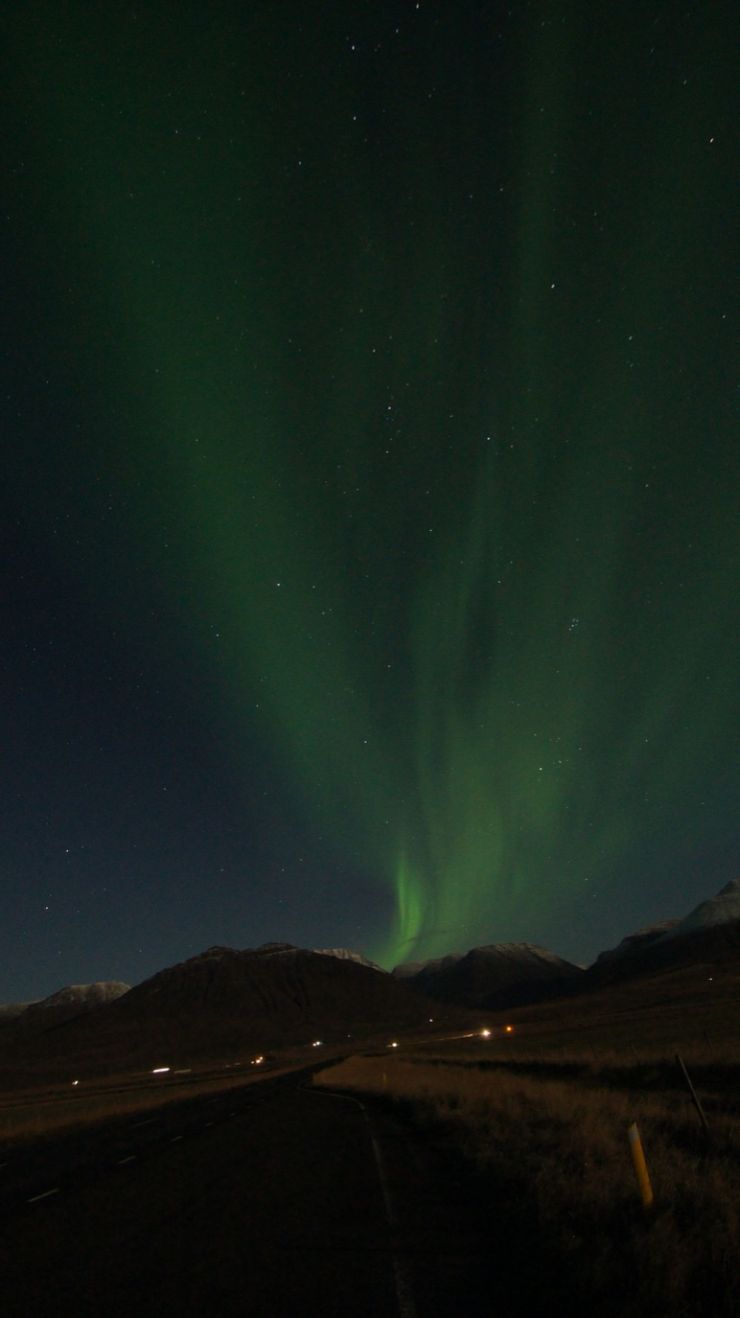 As we drove along the lights became brighter, a spectacular neon green wave twisting across from horizon to horizon.
The panorama above gives some idea of what we were seeing, the entire sky light up all around, although in person it is constantly changing, waves and beams lighting up, undulating and washing away. The feeling I'd had of being pressed for time, even now twenty hours into driving around the better part of the northern half of entire country, faded too; This was exactly the type of thing we were here to see, and had to be seen in person. If there was anywhere to be in a rush to get to, it was out here in the middle of nowhere.
Stopping several times by the side of the road for twenty to forty minutes each time, we end up driving well into the morning hours. We still had a full day left and had a few sights we were interested in on the western penninsula, so we picked out a campsite nearby in Hvammstangi where we could get a somewhat shortened night of sleep, a shower and place to cook breakfast.
The route around the north took us nearly 700km, not including the backtracking we did to see various waterfalls and springs and cowshed restaurants. It would actually have been a 10km shorter trip if we had just travelled back clockwise around the island instead of heading north, though if I were to change anything it would have been to add on a few more days travelling through instead.
Bumbling into the campsite between 3 and 4 am, we heeded the sign left at the office saying after hours we could just post up in an empty spot and pay in the morning.
We awoke around 10:30 and wandered down to the communal kitchen to find most of the other campers had already had breakfast and left We had a lazy breakfast, trying to make the best use of our extra supplies we had slowly stockpiled over the week, knowing we had one last breakfast before leaving the next day.
Rested and fed, we packed up the few things we had unpacked for our morning nap, and set off in search of the Icelandic Museum of Sorcery & Witchcraft - we intended to see the famous necropants.
We arrived just before noon. Though a bit more cramped than most of the museums we'd visited in the past week, it was packed with fascinating exhibits, with the detailed history of each item's past and the lore and intentions behind it giving a scholarly air to the display of a mans skin, voluntarily removed and fashioned into a pair of pants. I would say you should see it for yourself, but you probably already know if this is the kind of thing you need to see.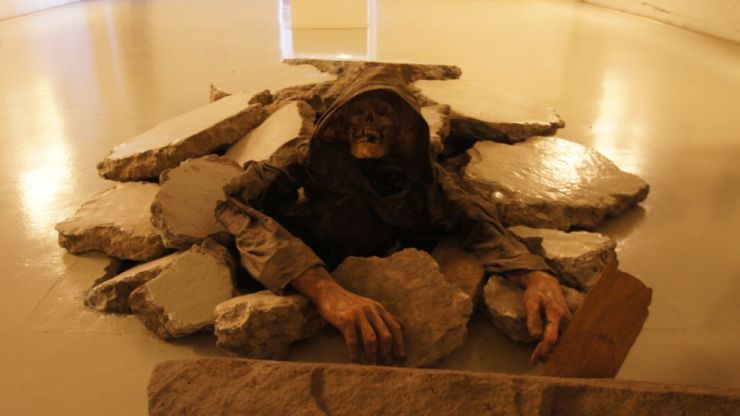 Leaving the museum in the early afternoon, we had to take a hard look at our schedule, and the path we wanted to take for the remainder of the day. Ideally, we'd end up just outside of Reykjavík at a campsite of some sort, earlier than the 3am checking we'd had that morning.
Initially we had planned to circumnavigate the penninsula, seeing shipwrecks and lighthouses and the like, but it was looking more and more like we wouldn't have time. We headed south and picked a few interesting sounding spots along the way.
A petting zoo we'd seen a sign for was closed, a tourist information center likewise shut for the season.
We started heading west a bit after backtracking towards the mainland again, and found ourself on a road that got worse the longer we stayed on it. The outcrop of land I thought we'd breeze around in a half hour took up forty five minutes to get half way across. There was a mineral spring and some mountains a short distance away if we went south instead of continuing around, so down we went.
It looked like rain, and there were some showers here and there, but eventually we found our way to the Gerðuberg Basalt Cliffs, a half kilometer long formation of columns of basalt. The rain stopped long enough for me to get out, and fly the Anafi down and back, quickly, before it poured for the rest of the afternoon.
While there are a few hiking trails and a hot spring somewhere nearby, with the rain resuming in earnest, we decided to head back towards Reykjavík.
We stopped just short of the city proper, staying in Mosskogor Camping, and cooked up a hodgepodge meal of every ingredient we had that might go together for our final night's stay in Iceland. In the morning we would inventory our gear, separating it from the rental items and go on a final trip into the city for souvenirs before heading back to return the rental and catch a shuttle to the airport.